'Twas one of the worst exams ever (I love making blanket statements that are false, they're fun). A lot of it was from last year's exam, which would normally be good, except that there were no solutions, and last year's paper was equally strange. As I expected, overall it was a disappointing test of how much you could fit on your A4 sheet. By sheer chance, I fit some of the 5 mark questions there, but most of it was a toin-coss. One of the questions was on
xload
, a program to monitor system performace. This is literally what we were given in the lecture slides: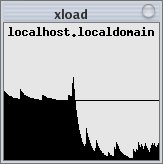 I kid you not. That's all the page on
xload
had.
I had to control my laughter during reading time, because, well, it was all so funny. This is what my life has become. Looking at graphs and writing about them in exams where I have to take in a sheet that's crammed full of stuff that has no bearing on anything. The lecturer meant well, I'm sure, but it just didn't work at all. It had the potential to be the most interesting subject this year, and indeed I thought it would be at the start, but it was yet another disappointment in my world of lowered expectations.
At times like these, you really have to wonder just what you're doing with your life. Nothing seems to have any purpose now if I have to spend my days doing this.
xload
exemplifies my failure - perhaps the graph is just a graph of my failure over time? No, wait, it would be my success over time, that would be more appropriate, seeing as how it gets really small towards the end. Success and happiness are but fleeting dreams to me now.
Anyway, for no reason at all, here's a stupid screenshot of my Linux desktop. It would have to qualify as one of the worst screenshots ever, but that's ok. Usually screenshots are so faked, the makers purposely have all these different "cool" programs open (a 100% of the time there is a Winamp open playing some strange MP3), so I think mine is much more realistic in comparison. Yeah, that must be it.